For the past couple of weeks, I've been behind the scenes doing some low-key preparations. It seems as though there is always something to do, and more things going on the list than I'm able to scratch off.
November started with my sitting for and passing the Virginia Broker's Exam. You may be wondering why this is significant, since I've "been in real estate" since the towers were standing in New York City. This is certainly true that I was initially licensed in August of 2000; however, I have always been licensed as a Real Estate Salesperson. This level of licensure requires a two-week class and passing an exam, and then associating with a broker who oversees all of your activities. I have been at United Real Estate Richmond now for about the last two years, under Mr. Jeffrey Finn who is the Broker in Charge there over a large assemblage of agents and associate brokers.
To upgrade to Associate Broker, one must be a salesperson for 36 of the previous 48 months and actively engaged in real estate, complete an additional 180 hours of education, and pass an exam of maybe 145 questions within a four hour or so time frame at the testing center. With this new licensure, I am an Associate Broker still under Mr. Finn at URER, but have the ability to obtain a brokerage license for Double A Auction & Realty (Previously an Auction and Appraisal firm only). In Virginia, to obtain firm licensure, a company must have a licensee overseeing the company's operations in that field.
I now am licensed as a Certified General Appraiser, Individual Auctioneer (VA, WV, FL), and Associate Broker. Double A Auction & Realty will be able to obtain firm licenses for each of the professions, and we can offer a broad range of real estate and property services. We also intend to expand our reach outside of Virginia, so stay tuned for more on this.
As far as auctions, we have a personal property sale coming up on December 17 at the facility at 621 Main Street in Kenbridge, VA. We will have a broad range of items, so visit the ALL AUCTIONS tab and check it out! As always, we would love to hear from you if you have real estate, appraisal or auction needs!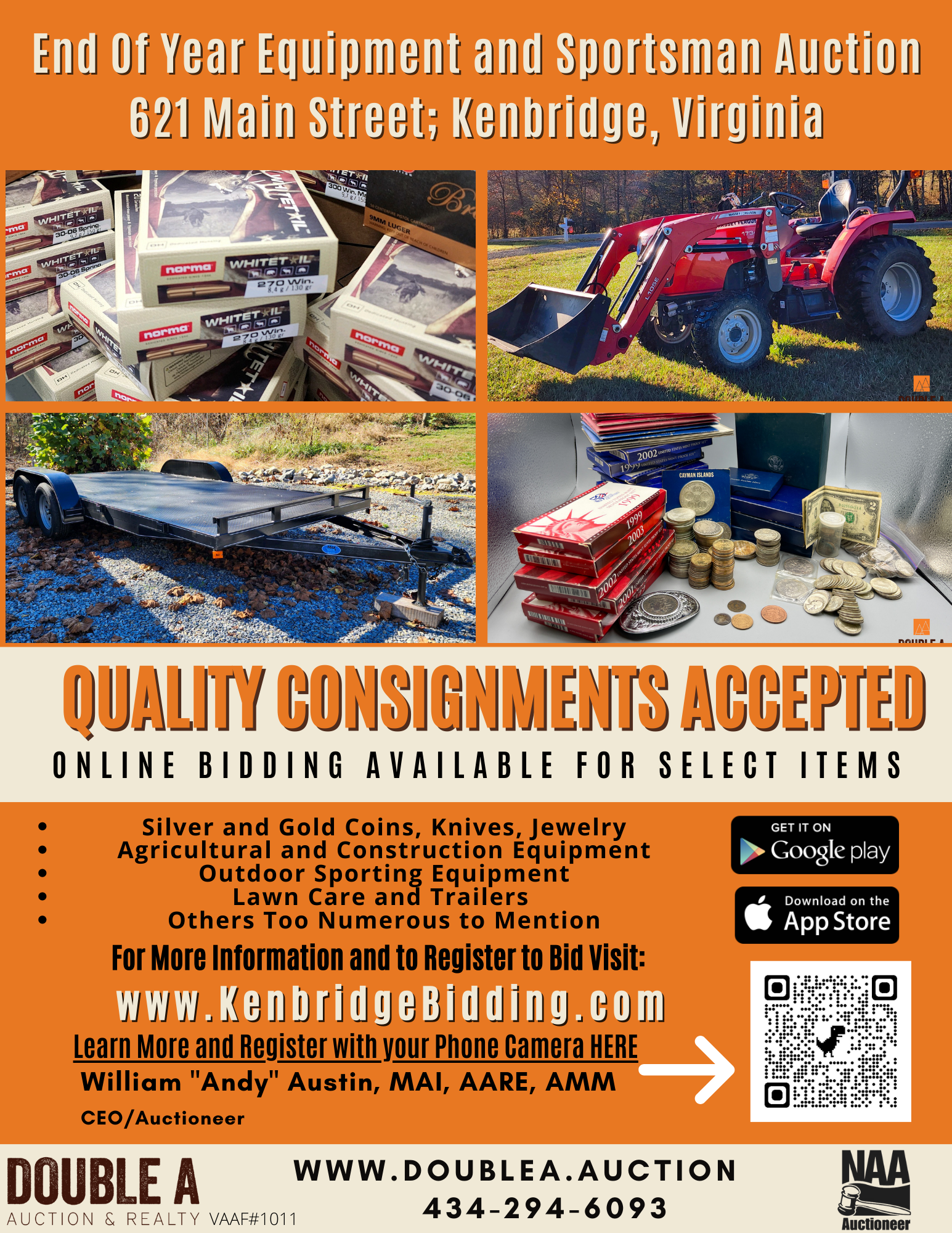 ---